A Cham dance repertoire in the program of street cheerleading VHNT at night 1.1.

At 19:30 a.m. at night, January 1, 2121, it was cold, but there were still quite a few people and tourists gathered on Le Duc Tho street (Dong Da ecological lake area, from the intersection of Le Duc Tho - Phan Dinh Phung to the intersection of Le Duc Tho - Le Loi) to wait and see the program Culture - Art Street (VHNT Street). Everyone joined the joyful atmosphere at the beginning of the year through the street cheerful program with dragon lion dance, and exciting dances. On the street, two outdoor stages about 50 meters apart to serve the audience, one side is traditional art repertoire such as excerpts from the old hut, Sweet dance of the Go Gang hat market...., one side is the variety repertoire to welcome the New Year, modern dance, concert, magic ... At the two ends of the entrance to VHNT Street, there are also folk games such as tug of war, eatery. , stilts, rope skipping… attracts groups of young people and families to have fun together.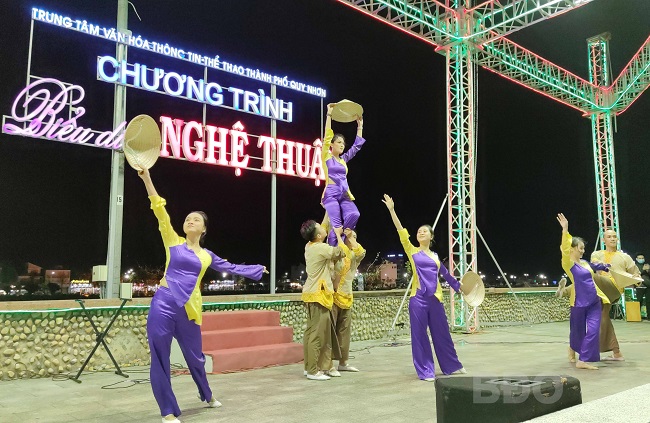 Sweet Dance of Go Gang hat market.
Only a few performances took place during the night art program 1.1, it rained heavily. However, many people still stick around watching the program. Seeing the audience watching in the cold rain, the singers and dancers were "burned" all the way on stage, the audience's applause and applause made a corner of the city suddenly warm.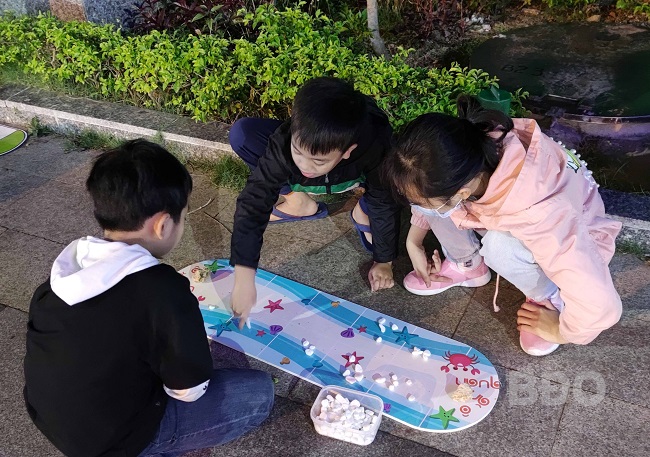 Play umbrellas at VHNT Street at night 1.1.
Mr. Nguyen Van Lich (40 years old), a visitor from the capital Hanoi, shared: "Our group of friends staying at the hotel on Xuan Dieu Street, the receptionist said that VHNT Street was active again at the beginning of the year. . Coming here, walking along the lakeside roads is also interesting, with decorative lights and some models and statues, so we took beautiful pictures. The art show in two stages is a good way for visitors to know not only the traditional art forms of Binh Dinh but also the performance quality of singers, musicians and dancers in Quy Nhon " .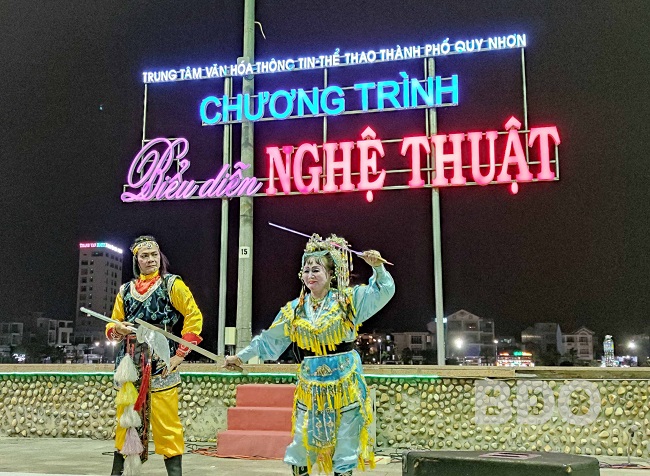 Excerpt from the old hut of Cao Quan Bao - Luu Kim Dinh.
According to Quy Nhon City People's Committee's plan to reorganize VHNT Street, after two nights 1 and 2.1.2021, the street will be held twice a month (Friday and Saturday nights of the first week and the fifth week. three monthly), in order to continue to introduce local culture and history and create a healthy entertainment and entertainment environment; providing more new and attractive tourism products to meet the needs of visiting, entertainment, enjoying food, shopping of people and tourists when coming to Quy Nhon; contribute to promoting and introducing the image of the country and people of Quy Nhon and promoting the development of tourism, trade and services.
In the future orientation, the organizers of VHNT Street will try to have more diverse and innovative forms of performances, exchanges, such as being able to guide visitors to chant hut, organize the space "Sing together. listen together ", mobilize cooperation and create conditions for students and students to show their musical talents through exchanging and performing songs, musical instruments ... in order to contribute to attracting many participants.
According to the Project of organizing cultural and artistic activities on Le Duc Tho route for tourism development, issued by Quy Nhon City People's Committee since August 2019, VHNT Street has an area to promote cultural and artistic products, souvenirs, handicrafts with characteristics of Quy Nhon - Binh Dinh; local food stalls… But, this has only done a small part and also causes "disappointment" for visitors. "I think that a beautiful and airy space along the lake can arrange suitable stalls selling Binh Dinh specialties, and souvenir stalls with priority on local products. On the night of January 1, our group came, and there was almost nothing we wanted to eat or buy… ", Ms. Pham Thi Hoa (35 years old), a visitor from Hue City, expressed.
Source: baobinhdinh.com.vn