Along with the general development of the tourism industry in Binh Dinh province, Quy Nhon city is always the typical nucleus, the tourism center of the whole province; Quy Nhon city identifies tourism services as an important economic sector creating a driving force to promote the development of other industries and fields; making an important contribution to the economic restructuring of the city and becoming a locality with its own characteristics.
The scene of the launching ceremony at Victory Square in Quy Nhon city
Tourism "Quy Nhon - Binh Dinh" becomes a tourism brand that attracts domestic and international tourists, especially Quy Nhon city is honored. received the title of "ASEAN Clean Tourism City 2020" at the Southeast Asia Tourism Forum and is gradually affirming Quy Nhon - Binh Dinh tourism as the leading destination in Asia. In addition, Australia's Traveler recently shared with visitors about Quy Nhon - a place that will bring the authentic vibe of a small city with a beautiful beach that promises to become a major tourist destination of Vietnam. Vietnam.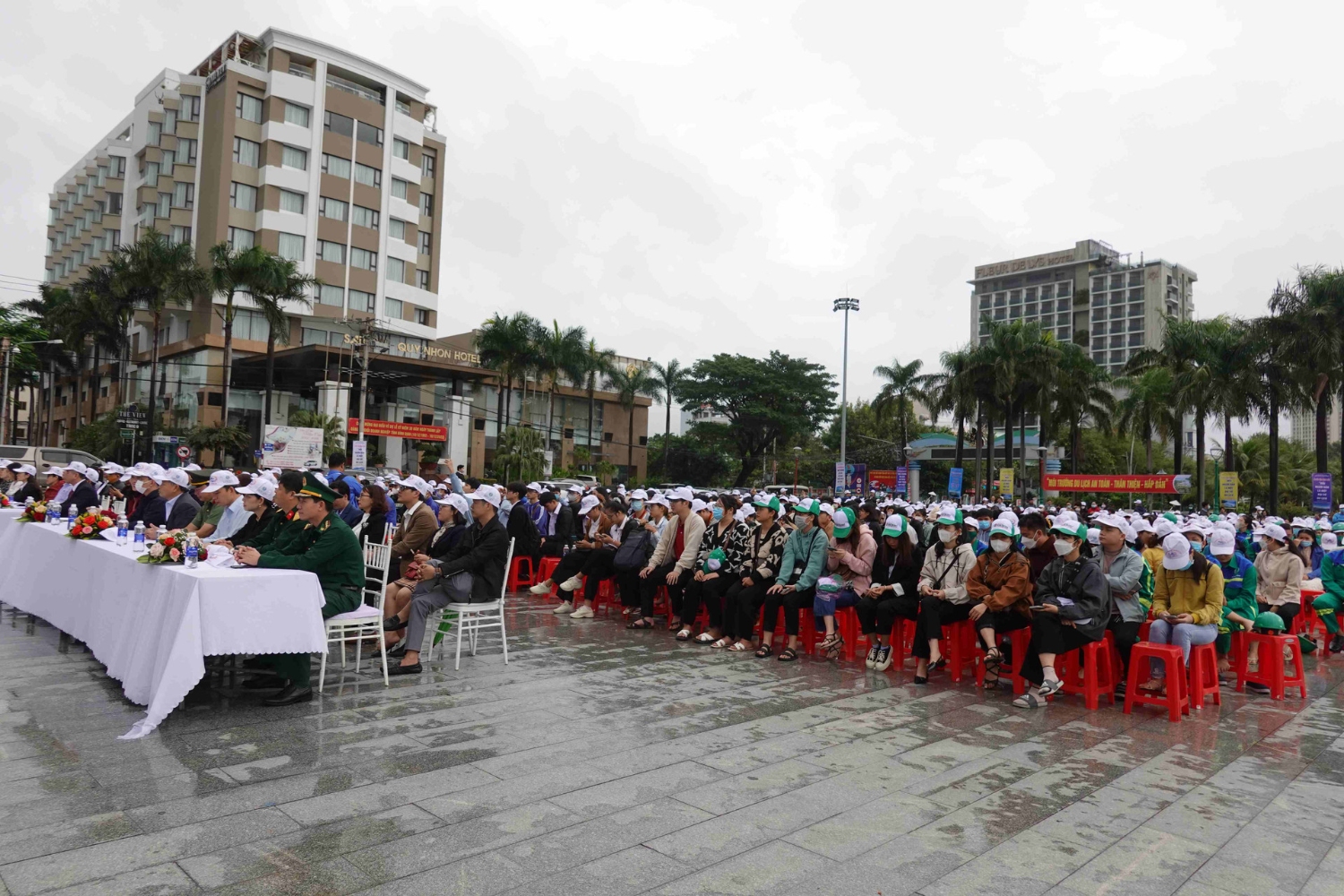 1,700 delegates attending the
Quy Nhon - Binh Dinh Launching Ceremony were favored by nature with many beautiful and poetic beaches. The harmony between heaven and earth, mountains and sea gives the landscape a romantic beauty like an ink painting. clear blue sea water, pristine golden sand, majestic mountain rapids and beautiful coral reefs.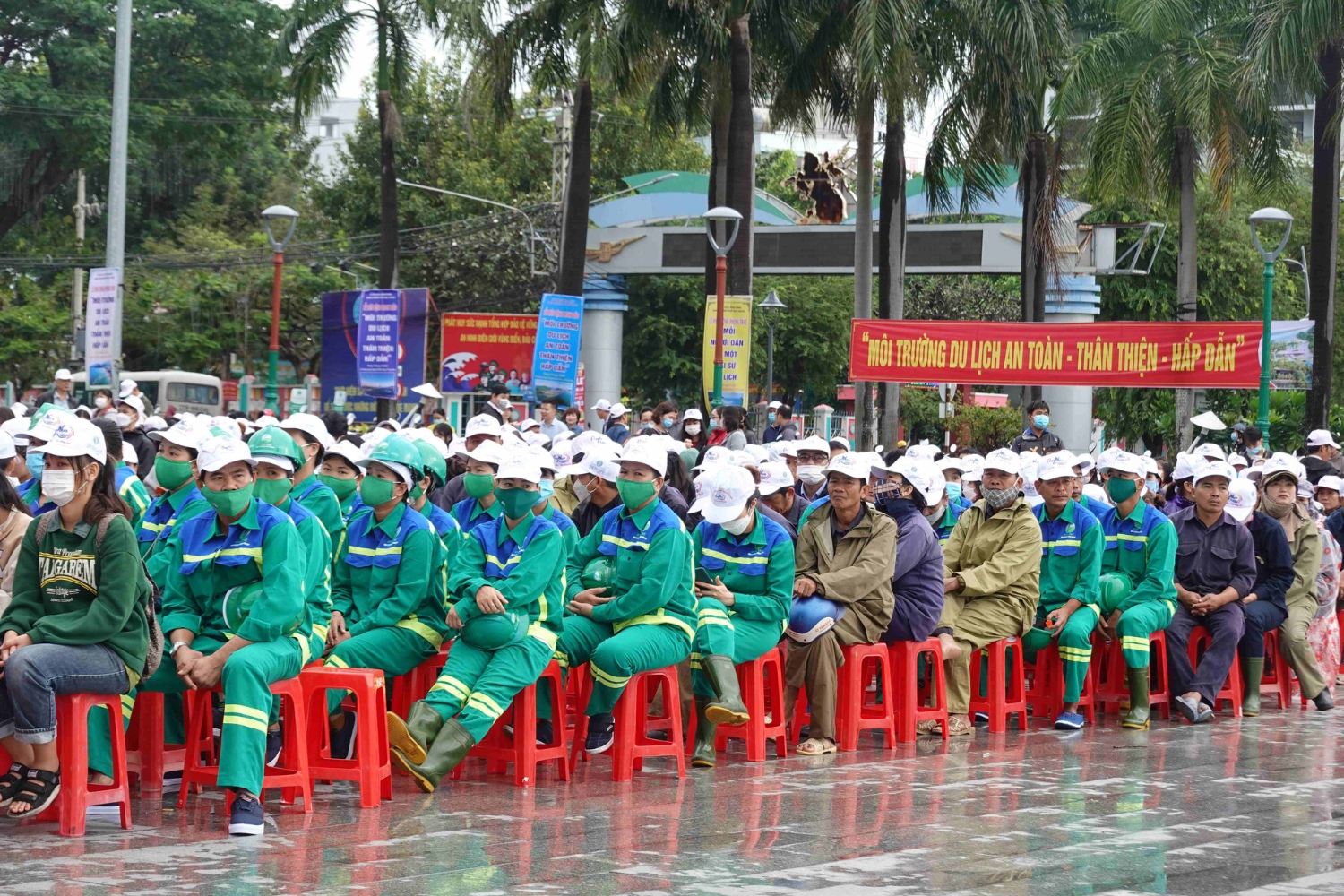 The force of sanitation workers to preserve the green tourism environment attended the Launching Ceremony of
Hon Kho Island - featuring a unique landscape with rocky outcrops jutting out into the sea, smooth sand beaches, lush green lawns and pulses. Fresh water from the cliff is blended with the life of the simple people but contains many cultural beauty. Ghenh Rang - charming landscape, is a unique beach with countless pebbles sanded by the waves, which was once built by King Bao Dai exclusively for Queen Nam Phuong. Con Chim - a gathering place for all kinds of birds to live in the middle of Thi Nai lagoon is likened to an "ecological pearl island", a green lung attracting tourists on the coastal city of Quy Nhon.
To continue promoting
the achieved results, Binh Dinh tourism industry always focuses on building and preserving the image and tourism brand of the province. Along with that, it is necessary to have the cooperation of all levels, sectors and the participation of the masses, to promote propaganda and raise awareness in the community so that people understand that each person is an "ambassador". tourism", it is necessary to have a civilized way of life from very small activities, such as not throwing garbage indiscriminately, not using vulgar words when communicating with tourists, and ready and enthusiastic to guide, help, and be friendly. friendly with the inherent virtues of the dear people of the Central Coast, thereby contributing to building a safe, friendly, civilized and attractive Quy Nhon - Binh Dinh tourism image, creating a good impression on tourists. traveler.
Quy Nhon city builds a green tourism environment
Source: baotainguyenmoitruong.vn